ABOUT US
---
Company Profile
---
Jiangmen Zhenda Machinery Manufacturing Co., Ltd., formerly known as Jiangmen Zhenda Mechanical and Electrical Engineering Co., Ltd., was established in 1993. It is located on the west bank of the Pearl River, adjacent to Hong Kong and Macao. It is a comprehensive high-tech enterprise integrating the design, manufacture, installation and commissioning of equipment, electrical, automation control, and non-standard steel structures. The company mainly provides product design, research and development, production, system integration and general contracting services for bulk cargo transportation systems such as grain storage, grain logistics, grain and oil processing, port ore and coal storage yards.
The company has nearly 100 professional and technical personnel in machinery, technology, electrical, automation, steel structure, etc. (half of them have intermediate and senior technical titles), more than 100 construction management personnel, and more than 500 professional workers, with an annual production capacity of 1.2 billion yuan.
The company has successively provided design, procurement, production, installation, and system commissioning services for mechanical and electrical equipment and its accessories for more than 130 projects in Guangzhou Port, Dalian Port, Yingkou Port, Rizhao Port, Panjin Port, China Grain Reserve, COFCO, and Shenzhen Grain Group. . Among them: "The mechanical and electrical MEC project of soybean bulk material conveying system for China Grain Zhenjiang Grain and Oil Co., Ltd. project, and the supply and installation of grain berth machinery and equipment for the grain and general terminal project of Guangzhou Port Group Nansha Port Area" respectively won the China Installation Engineering Quality Award---- "China Installation Star".

After more than 20 years of ups and downs, Zhenda has formed its own unique advantages and characteristics in the bulk material conveying industry, especially in the field of mechanical and electrical engineering construction of grain storage systems:
Rich experience in the integration of bulk material conveying systems;
Has a strong ability to refine the design of bulk material conveying systems and product development capabilities;
Have a stable and experienced construction team;
Have a good rapid response mechanism and a sound and thoughtful service system;
The company is market-oriented, based on strong capital investment and strong technology research and development, has more than 20 patents, and has developed: fully sealed belt conveyor, fully sealed multi-point discharge belt conveyor, grain mesh belt initial cleaning A series of patented products such as sieve, grain crushing device, anti-grain automatic grading device, bulk material fast loading system, container loading and unloading bulk grain system, etc. Among them: the fully sealed multi-point unloading belt conveyor won: the second prize of science and technology of China Cereals and Oils Association, and the second prize of science and technology of China port association. In addition, the company also produces: ordinary belt conveyors, air cushion belt conveyors, bucket elevators, scraper conveyors and other products. These products have been widely used in many domestic ports, docks and grain storage projects, and are well received by customers.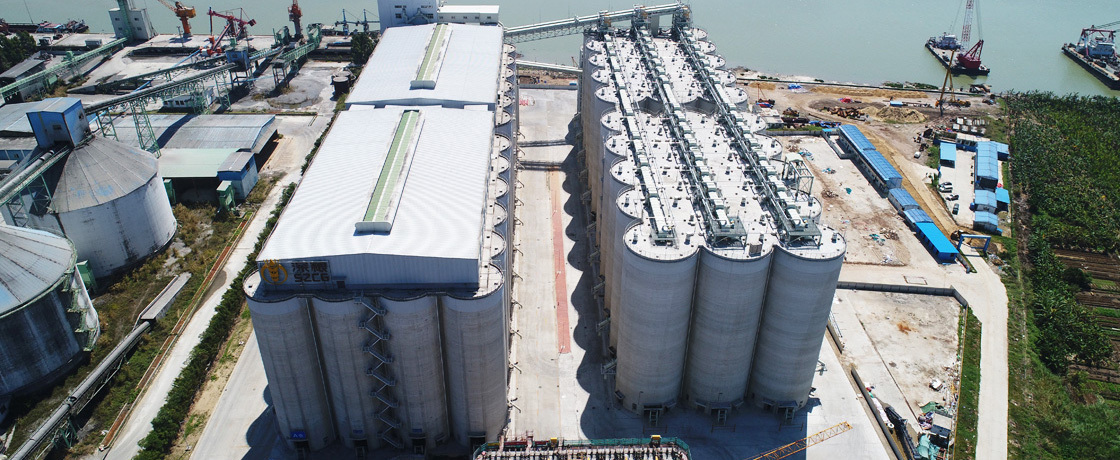 The company's business philosophy: good quality, reputation first, everything to meet customer needs; after-sales service commitment: "24 hours in the province, 48 hours outside the province to arrive at the scene". To this end, the company has permanent offices in Northeast China, North China, East China, Southwest China and other places to ensure rapid response to customers.
The company has been rated as "Advanced Enterprise", "Contract-honoring and Promise-keeping Enterprise", and "AAA+" Credit Enterprise for many consecutive years; it has won the top ten best-selling brands in China's machinery and equipment manufacturing industry, a key promotion unit of China's famous brands, and a high-tech enterprise in Guangdong Province. , passed the ISO9001:2015 quality management system certification; successively joined the Coal Network, the China Grain and Oil Society Logistics Branch, the China Port Association Silo and Bulk Grain Transportation Branch; China Heavy Machinery Industry Association Belt Conveyor Branch, China Mechanical Engineering Society Logistics Branch The Engineering Branch Continuous Conveying Technology Professional Committee, the National Port Standardization Technical Committee and other organizations have become members. Among them, the China Cereals and Oils Society Logistics Branch, China Ports Association Silo and Bulk Grain Transportation Branch are all vice-chairman units.
At present, Zhenda has formed a benign development trend of "product-led, engineering-promoted". Looking forward to the future, we are full of confidence and are willing to cooperate sincerely with customers at home and abroad with "rich experience, advanced technology, standardized management, and thoughtful service" to create a better tomorrow.